Inquiry
Non-Viral Vector Development Service
Non-viral vectors have the ability to be mass-produced and the potential for more chemical property modifications. Our company focuses on common non-viral vectors and their potential future applications, helping our customers to design and develop more novel, highly efficient, and less toxic multifunctional non-viral vectors to further accelerate the progress of gene therapy for rare diseases.
Background
Viral capsid proteins have evolved into highly efficient gene delivery vectors, offering superior performance in transfecting cells compared to non-viral vectors. However, several clinical trials have revealed the toxicity, inflammatory responses, and severe off-target delivery of viral vectors. In recent years, non-viral vectors, which are safe, reliable, stable, easy to produce and do not cause immune system reactions, have attracted increasing attention.
Synthetic non-viral vectors offer more modification possibilities to obtain the desired properties of gene delivery systems, including biocompatibility and efficient nucleic acid delivery with high functional activity. These vectors are easy to produce at scale for commercial synthesis and are storage stable. Therefore, the combination of nanotechnology and nucleic acid-based molecules shows great potential in the field of drug delivery. Non-viral vectors such as polymers, lipids, and inorganic particles are now frequently investigated.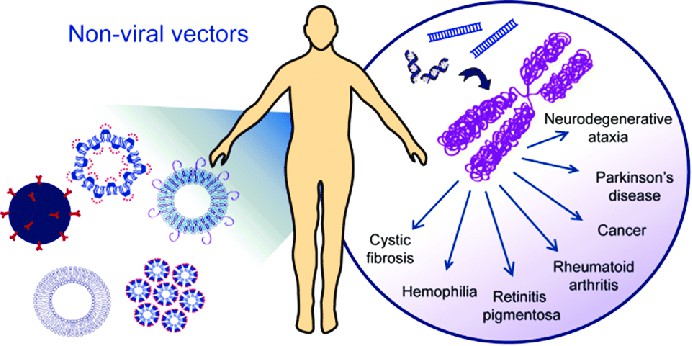 Fig. 1 Application of non-viral vector carrying nucleic acids in the treatment of various genetic diseases. (Oliveira C, et al., 2016)
Our Services
Development of lipid-based vectors
Lipid-based nanomaterial carrier platforms such as lipid micelles, solid lipid nanoparticles, nanostructured lipid carriers, and liposomes have been widely used for the delivery of small molecules and macromolecule-based therapies. Our researchers work to help customers develop a wide range of liposome formulations for DNA, messenger RNA (mRNA), siRNA , and antisense oligonucleotide delivery in gene therapy.
Development of polymer-based vectors
In recent years cationic polymers have emerged as attractive candidates for non-viral vectors. We use mainly polyethyleneimine (PEI), poly(L-lysine) (PLL), poly[2-(dimethyamino)ethyl methacrylate] (PDMAEM), poly(amidoamine) (PAMAM), and chitosan (CS) to help our customers design efficient and safe non-viral vectors for gene therapy.
Development of inorganic nanocarriers
Inorganic nanocarriers have become a hot topic of research in recent years for novel gene delivery systems because of their biosafety, efficiency, and affordability. They can be designed in specific sizes, structures, and geometries. We offer a wide range of services for the development of inorganic nanocarriers.
Services Flow
As a trusted service provider in the field of gene therapy, our company offers one-stop customized services for the design, development, and characterization of non-viral vectors. Our dedicated team of skilled scientists also provides comprehensive consulting services on non-viral vector tool design and customizes the most appropriate solutions for our customers. Please contact us for more details and to get a formal quote.
Reference
Oliveira, C.; et al. Recent advances in nucleic acid-based delivery: from bench to clinical trials in genetic diseases. Journal of Biomedical Nanotechnology, 2016, 12(5): 841-862.
For Research Use Only.
Related Services